Receive an alert as soon as water is detected With this 2-in-1 water damage protection kit
Cold winter added to a rapid thaw can quickly lead to floods and massive water damage. React quickly and protect your belongings by using this 2-in-1 water damage protection system.
2-in-1 water damage protection system
The Sedna5 starter kit is designed to detect, protect and prevent from water damages. The 5 smart water leak detectors can send a push notification or an email alert as soon as water is detected, or it can instantly close the smart valve and send a push notification or email alert. Sedna5 monitors and stops potential damage that may come from inside the house, like leaking pipes and faucets, and monitors and alerts for water that may arise from outside the home such as flood water.

The Neviweb App lets you select which alerts you wish to receive and what you want each smart water leak detector to do. The app and the alerts are free (no monthly fees!), and your system works as a stand-alone.
Sedna5 smart kit includes:
Waterproof Sedna DS detectors
Designed to monitor floodings, the Sedna DS sensor is 100% waterproof. The sensor can be inserted in the drain or the sump pump and be submerged without being damaged.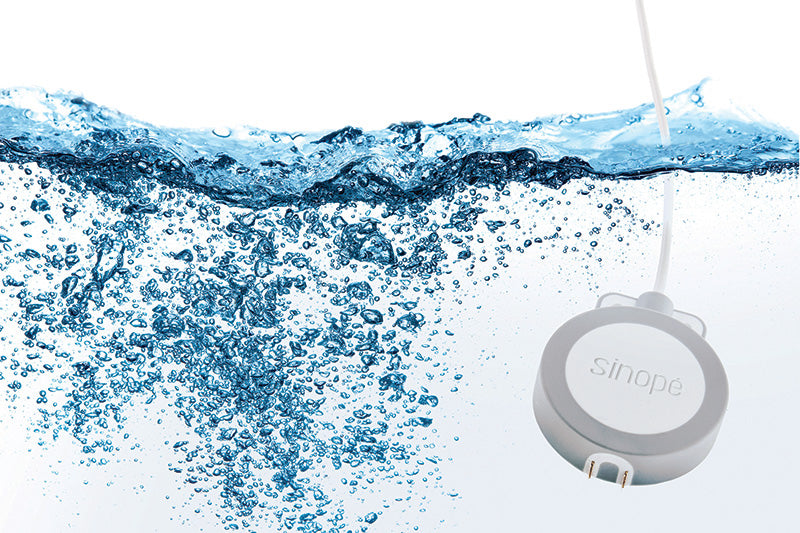 The detectors can be fixed to the wall using screws or double-sided tape (both included with the product). The Sedna DS sensor attached to a 4-feet wire makes it easy to insert in a drain or sump pump to get notified as soon as levels of water are rising.
Efficiency, reliability, affordability
Sedna is the first smart water leak protection system that works without a separate gateway and even in the occurrence of a power or Internet failure, thus presenting the best reliability and affordability for North-American homeowners.
Preventing water damages coming from the house
As soon as one of the smart water leak detectors senses water as low as 0.015 inches, the valve shuts off the main water supply, and an alert is sent by email or SMS informing the user of the location of the leak and confirming that everything is under control.
The hub built into the valve rather than being separate is a major innovation and provides more reliability since the detectors no longer have to communicate with an intermediary for the valve to close the main water inlet. One less device also facilitates the installation and contributes to reducing the cost of the system.
Spring is flood season. Make sure you're equipped to protect your home from costly water damage.
Some insurance companies apply rebates on their clients' premiums when they are equipped with such systems. Ask your insurance company about it!
To learn more about Sedna5, visit www.sinopetech.com/us/sedna