Are you looking to purchase a system to protect your home from water damage? Sedna is THE solution for you: 100% stand-alone, this water damage protection system requires no control panel or gateway. It is the most complete water damage prevention system on the market.
In fact, the wide variety of accessories compatible with Sedna allows for a water damage protection system tailored to the needs of each user.
Here is a step-by-step guide to customize the system to your needs.
1. Determine the size of the water inlet
The Sedna Wi-Fi Smart Valve is the core of the smart water damage protection system of the same name. In order to select the right size of valve for your home, you first need to measure the diameter of your main water inlet. 
While it's easy to do this yourself (we show you how here), you can ask a plumber to do it for you. You can then choose from our various sizes offered. The ¾" or 1″ size of the "standard" valve is perfect for copper, steel or PVC pipes. 
If your pipes are made of cross-linked polyethylene, also known as PEX, the ¾" PEX-ready valve will be your ally. 
If you didn't choose the right valve model (PEX or regular) when you ordered: don't panic! Your plumber can simply use fittings to connect the valve to your plumbing.
Here are your options depending on the size of your inlet:
Water damage protection kit

, which includes a self-closing valve and 5 water leak detectors

¾ in: VA4220WF-K5
¾ in PEX: VA4220WF-K5-P01
1 in: VA4221WF-K5
2. Wi-Fi Valve vs. Zigbee Valve: which one should I choose?
Two models of valves are offered by Sinopé Technologies, the "Wi-Fi" valve and the "Zigbee" valve. Here is what differentiates them and which one to choose:

As mentioned previously, the Sedna Wi-Fi valve is the core of the system. It is with this valve that all other accessories and water leak detectors communicate. In fact, it uses a dual communication protocol: Wi-Fi and Zigbee. This is what allows it to stay smart and communicate with all the other complementary products, even in the event of an Internet failure.

The "Zigbee" valve is a secondary valve and is considered an accessory. It is used when there are two water inlets and the hot and cold water go through separate pipes. This valve simply replicates the behaviours of the main Sedna valve (Wi-Fi), so that the hot and cold water inlets are closed simultaneously when required.

So, if you don't have a secondary water inlet, we recommend choosing the Wi-Fi valve since it is the one with which all other accessories and water leak detectors communicate. The Sedna Wi-Fi valve can support up to 20 additional sensors or devices to provide you with maximum protection, no matter what type of home you live in.
3. Where should I place my water leak detectors?
Water leak detectors should be placed near all water access points that could cause potential damage. A water access point is defined as any area where water may be visibly leaking from either a faucet that has been left open or a damaged or defective pipe or appliance that could cause a leak.
Three models of water leak detectors are available:
The Sedna D Detector (WL4200) consists of a single device under which are the famous gold-plated detection electrodes to prevent oxidation. Because of its aesthetic appearance and its compact and discreet size, it can easily be placed near the toilet, the bath or under a sink.
The Sedna DS Detector (WL4200S) is equipped with a 4′ wire sensor. The detection electrodes are located at the end of this waterproof sensor. This format is the most popular for monitoring water leaks behind dishwashers, washing machines or in the sump pump hole. This model allows the detector case to be mounted on the wall so that it remains within easy reach, while the sensor with the detection electrodes can be placed up to 4 feet away. In addition, because the sensor is waterproof, it can be completely immersed (in the sump pump hole, for example) without being damaged, whereas it is not recommended to immerse the case containing the batteries in water.
Finally, the Water Leak Detector with Perimeter Cable (WL4200C) captures water over its entire 7′ wire. This detector is ideal to run along a wall or to surround a water heater that is installed directly on the floor. In addition, up to two 7′ cables can be connected end to end to achieve a 14′ detection length. As with the previous water leak detector, double-sided adhesive is provided to attach the detector housing to the wall (without a protective pan or basin underneath). Self-adhesive clips to hold the sensing cable to the floor are also included with the product.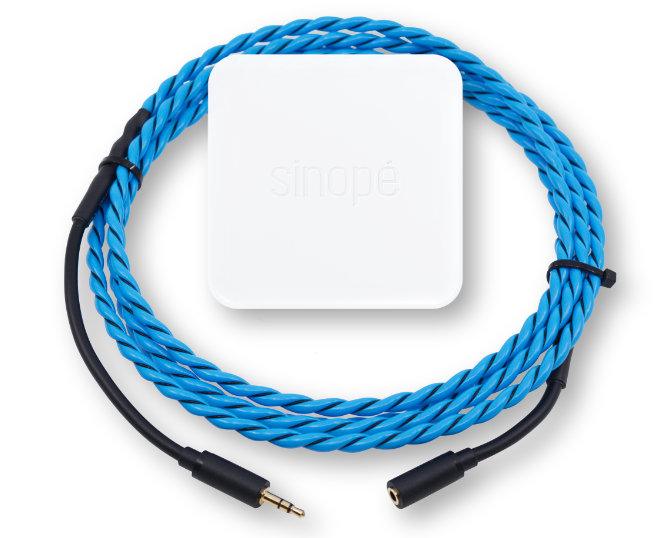 Note that the Sedna5 water damage protection kit mentioned above includes 3 Sedna D detectors and 2 Sedna DS detectors with sensors. The detectors can also be purchased individually in the online store.

To summarize

Here are the main places where we recommend installing the different models of detectors:


Sedna D Detector (WL4200) 

Sedna DS Detector with Sensor (WL4200S)


Dishwasher
Refrigerator (water and ice dispenser)
Washing machine
Hot water tank
Under the bath



Detector with Perimeter Cable (WL4200C)


Around the hot water tank (if installed without a protective pan or basin underneath)
Along the walls
The Sedna Wi-Fi valve can be paired with several Sinopé smart devices to offer you the most complete and efficient system on the market. Here are some examples of devices that can be linked to it: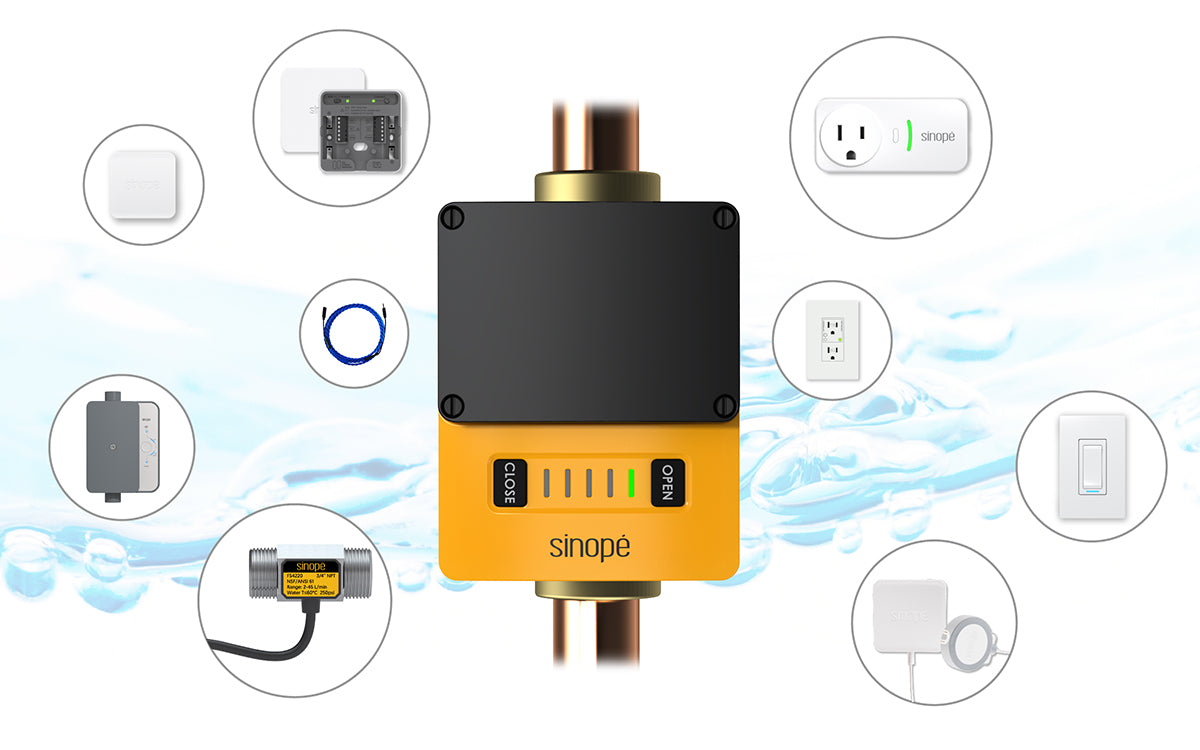 The
flow sensor
has been designed to detect invisible leaks – minimum 2L/min (¾-inch version) and minimum 4L/min (1-inch version) – that can occur when pipes break in walls and ceilings. It allows intercepting water damage after an abnormal delay previously determined by the user in Neviweb. 
With the Neviweb app, you can choose to immediately close the main water valve* or receive a notification when the flow sensor detects a leak or abnormal flow. If no action is taken after receiving such an alert, the valve will close to prevent potential damage.
As a bonus, the flow sensor generates water consumption graphs allowing each household to identify what represents an abnormal flow for them and to know their water consumption.
*The flow sensor is only compatible with 2nd generation Sedna valves. The flow sensor is designed to be installed only with regular valves and not PEX valves. To be compatible with PEX pipe, the flow sensor must be installed with plumbing fittings for PEX pipe.
You can control your main water inlet opening and closing with a simple double-click on the Sinopé smart light switches and dimmers. You simply need to connect them to the Wi-Fi valve in Neviweb, adjust their settings and you're done!
To prevent major leaks, connect the dishwasher or washer to smart outlets to automatically turn off their power supply as soon as a leak is detected.
To minimize the risk of damage, you can connect your water valve to your load controller to shut off the connected devices' power supply when the valve is closed.
The Sinopé
multi-controller
bridges the gap between your water damage protection system and your alarm system. Your security company is notified as soon as the leak is detected and can therefore intervene even faster.
5. Customize alerts and actions once the system is installed
Each device in the Sedna smart water damage protection system can send alerts and trigger customized actions.
Thus, you can decide that some water leak detectors will only send an alert via email or push notification, while other devices will send a notification in addition to closing the valve instantly to completely shut off the water supply.
Each device monitors for water, but also for freezing to prevent pipes from damage that can be damaged when the temperature drops below 5 ॰C (41 ॰F).
For the most complete peace of mind, the system also informs you when the batteries are low. 
This
chart
indicates the batteries' lifespan according to their nature and their use. Thus, when a Sinopé water leak detector is connected to the Sedna valve and uses lithium batteries: those can last up to 10 years.
The efficiency of a water damage protection system also lies in the simplicity of use of its management application. Here again, Sinopé Technologies excels thanks to its Neviweb app that gathers all the compatible devices in a single location.
Thus, the devices are named and classified by room to facilitate the quick location of a detector that has identified a leak.

In addition, the smart geofencing feature or compatibility with Amazon Alexa voice assistant or the Google Assistant allows for proactive valve shut-off when leaving the house.
You're living in a condo? No worries!
While this article is primarily focused on our residential system, you should know that we also offer a water damage protection system for the multi-residential sector. Our Sedna Mesh solution was designed specifically to watch over buildings 24/7 and prevent costly damage.

Its Wi-Fi mesh technology developed by Sinopé Technologies allows the valves to communicate with each other and with the GT4220WF-M gateway to ensure increased protection and seamless signal repetition throughout the building, regardless of its size or the number of floors. The management of such a system is done through an integrated management platform called Sinopé Smart Systems. 

Learn more about this solution here.
Designed by our engineering, industrial design and programming teams, the Sedna system protects houses and condominiums efficiently and easily. In fact, the Sedna valve was awarded Silver at the Grands Prix du Design in recognition of its innovative and highly functional design. 

To top it all off, the media love this water damage protection system:
"A very recommendable choice, no doubt."
⭐⭐⭐⭐1/2
La Presse 
"Minimize water damage and, in some cases, save on your insurance premium: that's what Sedna allows."
Protégez-Vous

"A Canadian technology to the rescue."
FrancoisCharron.com