Over the past 2 years, you might have seen articles published by our friends over at Mysa relating the differences between our products. These articles were sharing some misleading and incomplete information, in addition to biased reviews of our products and features.

You know, this is not how we do things here. We don't compare. At Sinopé, we wake up every morning with the will and mindset to develop the best products out there. Period.

No, that's a lie.

We wake up every morning with the obligation to bring the best solution, with the best quality, to the most affordable price to market.

We like promoting our products and solutions. Not comparing them. But hey, since we've been invited to the ball, we are going to dance. Here are all the facts you (really) need to know.
1. Compatibility and connectivity
In their latest article, the Mysa team started out stating how important it is to check for compatibility. In terms of compatibility, Sinopé does it all. We do manufacture line voltage thermostats for electric heating compatible with baseboards, fan-forced or radiant heaters. But let's not forget, we also manufacture floor heating, low-voltage heating and double-pole thermostats. Here is more about our products and their compatibility.
"If a thermostat isn't designed to handle the wattage power of your heater(s), the thermostat could be damaged," stated Mysa in their blog post. That's true.

However, having too much wattage in a thermostat is useless. If your baseboard is 2,000 W, you don't need a 3,800-W device. It will only result in a bigger and pricier product. Why? Because the heat sync needs to be bigger and more space is required to dissipate the heat generated by the device. We like to keep things simpler, smaller, and more discrete.

The 30-year+ experience in the field of our staff has taught us that with 2 models (3,000 W and 4,000 W), you capture all the needs. And that is what we offer consumers.
In terms of wiring, Mysa is accurate. They say that because our line-voltage thermostats have two wires, they are compatible with any installation in both newer and older homes.

However, the information about power stealing shared in their article is wrong. Power stealing: a scary expression, right? It's actually a standard and widely spread technology that has been used by all the big line-voltage thermostat companies for over 25 years. Any two-wire thermostat uses power stealing.

But most importantly, thermostats that use power stealing don't fail when it is freezing outside, even when the thermostats run 100% of the time.
At Sinopé, we do not only manufacture thermostats. We are energy specialists.
We bring an array of solutions to the table. We have everything to control the energy, both in the home and outside.

We have the most complete offer in terms of smart home technologies.
Yep, you read correctly. Across North America, you will not find a company that cherishes so many technologies and excels in each – Wi-Fi, Zigbee, Control4. We offer smart devices for all kinds of users, from the occasional tech lover (with our Wi-Fi product line) to the committed smart home fan (hello, Zigbee lovers!). And let's not forget all of our high-end users (Control 4, anyone?) who choose Sinopé for their multi-million-dollar homes and cottages.

Wi-Fi, Zigbee, Control4: they all connect differently to your home.
It's true, some of our thermostats (the Zigbee line) require a hub. But…do you even know why?

1. Meshed network: The Zigbee network is a meshed and auto-healing one. This means that the signal is relayed from one device to another. Can you imagine the reach you can have with that? Bye-bye reach issues. Your network will be up and running. All the time. More than that, it is a parallel network to your Wi-Fi so you are not slowly crowding up your environment.

2. Local control: The gateway has to be plugged in directly to your router but it gives you infinite possibilities. Everything runs locally. Even without Internet, your programming will still be activated: the automations (Zigbee) are saved locally in the GT130 gateway and the schedules (Wi-Fi) are saved in the device, so that everything is maintained normally even if there's an Internet failure.

3. Security: Because everything runs locally, there is less interaction with the server and it can provide a more secure environment

4. Independent: Zigbee is an open protocol and all companies work the same way. Tired of Neviweb and Sinopé? You can connect all of your Sinopé devices to the Hubitat or SmartThings hub and keep on playing with your devices. No interaction with our cloud. No interaction with us. You will be free. Forever.

Wi-Fi vs. Zigbee: which to pick?
Not sure if you should choose Wi-Fi or Zigbee devices? We've untangled the topic just for you. If you're looking for the Control4 option, ask your favourite smart home pro and request Sinopé devices.
2. Consider Thermostat Control
When you see a Sinopé thermostat, you understand right away.
The indoor temperature, the outdoor temperature (or the setpoint), and the time are available at a glance. Even if you don't know how to use the product or don't have your smartphone in your pocket, you won't have to guess. Bottom line, we think aesthetics are essential too. But we sure are strong believers in a functional and intuitive design.
Our app, called Neviweb, offers a great variety of features. We even have a functionality called Éco Sinopé that helps users significantly reduce their energy bills.

We provide energy charting for a much wider array of products.
All of our thermostats, light switches and dimmers, smart plugs, smart outlets, and load controllers are included in our energy charting. You can literally measure and track the energy consumption of everything in your home. Isn't it wonderful?

That kind of data allows users to make comprehensive changes in their energy consumption habits, rather than just in their heating habits. Also, did you know that one of the most energy-intensive appliances in the home is your water heater? Track its consumption and save by connecting our load controller to achieve even greater savings!

Oh. And a minor correction from Mysa's blog post: our Smart Wi-Fi Electric Heating Thermostat can be turned off. We simply call it STANDBY mode.
4. Smart Home Integrations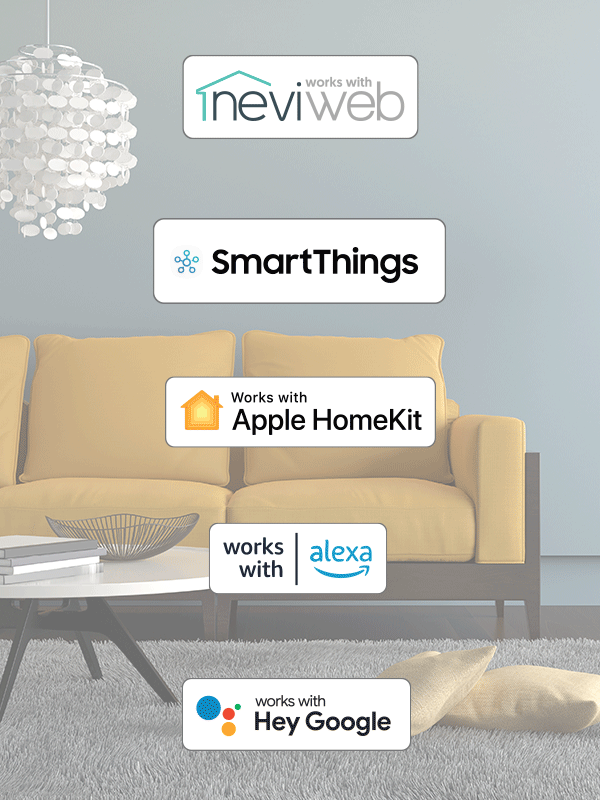 We are smart home experts, with all of our devices available in Wi-Fi, Zigbee, and Control4.

The cool thing is: you can ALSO choose the home automation platform you prefer to control your smart devices. Apple HomeKit, Samsung SmartThings, and Hubitat are among the most popular choices available. And let's not forget the compatible voice assistants like Amazon Alexa, Google Home, and Siri. Just make sure you check the specs section on the product page to see which platforms work with your coveted device.

We also have our own signature platform, called Neviweb.
It's different from any other home automation platform you have seen before. That is because we focus on energy management for any electric devices you will find in your home. (Remember we said we were energy specialists? QED.)
We offer more value for money. It's as simple as that.

When you compare Wi-Fi thermostats with Wi-Fi thermostats, ours seem to offer the best price/quality ratio at $114.95/unit for the 3,000 W line voltage thermostat and $199.95/unit for the floor heating one.
6. Know the return policy
With all the information available for each of our products here, here, and here, we believe that if you purchased a smart home device, it wasn't by accident. We allow users to return a product if they changed their mind, and 15 days have proven to be enough.

Also, we simply don't take back used products and open boxes because then after, it needs to be discarded. According to the Electric Code, it is forbidden to sell or install used devices (and between you and me, discarding a perfectly working device is just a waste of resources and it is bad for the environment).
First and foremost, we have so many products to promote (not just four) that one would need to count the reviews received for all products together to be fair.

Then, there are so many reviews you will never see and read anyways. See, Sinopé Technologies is also what is called in the industry an OEM – an Original Equipment Manufacturer. That means we create products for other companies, and they are branded with the other companies' names. Do you like the thermostat you have at home? Well, there's a good chance it was made by us, even if it doesn't have Sinope's brand name on it.

Still, even if we have fewer reviews than other players in the industry: when you check the rating, we have the best score. It's not about the quantity but the quality.
Technology and quality first, one product at a time
When you're a renowned company, you're often the target of others, and we know that's the game.

We have always been a tech-focused company doing some marketing and PR. We sometimes have to compete with marketing companies doing smart thermostats. But we promise: we're working hard to make marketing and PR our strong suit too.