Bag it up x Hiking
Hiking like a pro with Isabelle Moreau, Marketing advisor
Isabelle Moreau, marketing expert at Sinopé Technologies, shares her life hacks for the perfect hike
Marketing expert, artistic director, and photographer are amongst the many responsibilities of Isabelle Moreau at Sinopé Technologies. Tech gadgets aficionado, Isabelle changes her smartwatch bracelet every day and has many passions, like hiking.
Since when do you hike?
For the past 5-6 years, I have been getting back to it more seriously because I had taken a break when my children were younger. Now, I hike regularly.
What do you like in this sport?
It allows you to unwind, to escape. Nature has a therapeutic effect: watching and listening to nature is soothing. I love hearing the leaves shivering in the trees, the echoes of woodpeckers in the forest, and the crunching of crampons and snowshoes in the snow in winter.
During summer, it's the best activity! When it gets hot outside, there nothing like going in the shade of the trees. Of course, it's hot because of the physical effort, but under the forest cover, it's cooler. It's natural air conditioning.
What type of hiker are you?
My motto is "little train goes far": I choose my hiking site with the Sépaq network, and I leave for the day. I take few breaks and keep a steady pace.
What advice would you give to someone who wants to start hiking?
I think there are 3 essential things to keep in mind when you start. When hiking, it is crucial to wear good shoes. No need to have the most expensive or the most technical ones, but comfort is essential. Moreover, if you are a beginner, start gradually and aim for small goals before tackling big climbs. Otherwise, you expose yourself to bad experiences! Last but not least: don't forget to bring plenty of water and snacks! Personally, I like Taste of Nature granola bars made in Canada with organic ingredients, and I always have a hydration pack in my backpack.
What are your hiking essentials, and what guides your selection?
It depends on the weather and the season. One must keep in mind that the temperature drops in altitude. So I bring a light backpack in which I make sure to have a warmer vest and spare socks. I also carry a pair of light gloves at the beginning and at the end of the season, because there will undoubtedly be a few degrees less at the top.
What are the smart home benefits for a hiker?
Even when hiking, I always bring my iPhone and my Apple Watch to track my performance stats. It doesn't keep me from unwinding. And by doing so, I stay in control and can protect my home from anywhere, at all times. I can receive Sedna's alerts if there is a water leak at home, for instance.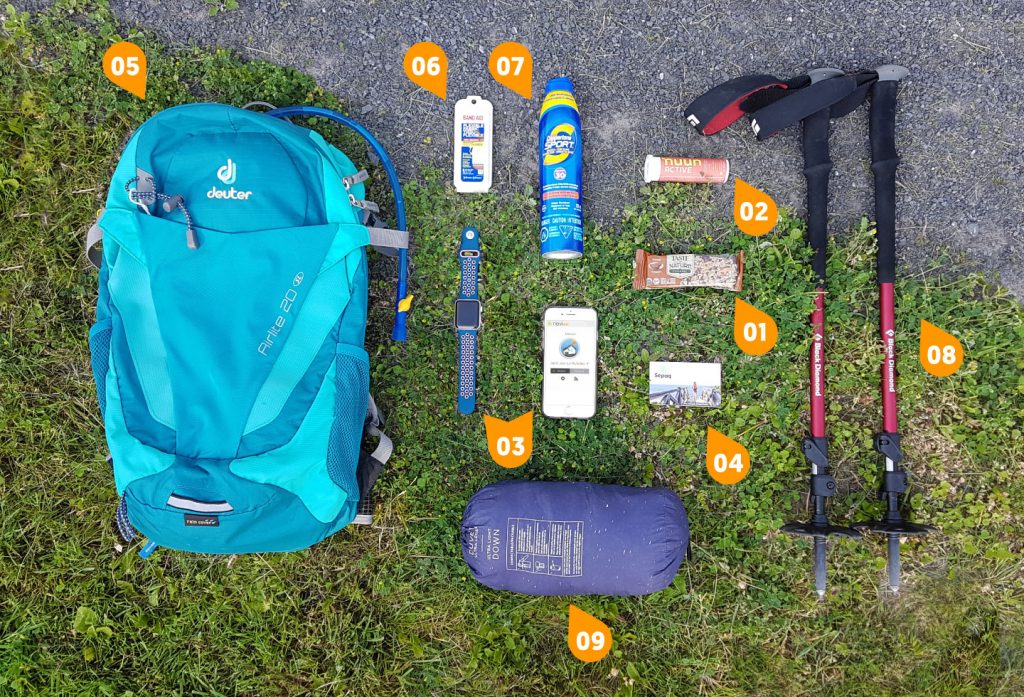 In the bag
Taste of Nature granola bar
I love these tasty, nutritious, and gluten-free granola bars made in Canada. Plus they're GMO-free and filled with good ingredients.
Nuuns
These are electrolyte tablets that I add in my water, especially during long hikes or when it is very hot.
iPhone 8 and Apple Watch
I love to keep track and save the data of my hikes and, by keeping these devices with me, I have a GPS in-hand at all times.
Sépaq card
We have so many beautiful playgrounds in Quebec! This card gives me unlimited access to all the national parks in Quebec. I am particularly fond of Mont-Mégantic National Park and Grands-Jardins National Park in Charlevoix.
Hydration pack
It fits perfectly in my backpack and takes up little space. This ensures me to drink throughout the hike without having to stop to get a bottle of water out of my bag.
Plasters
You never know! It's the mother in me who speaks.
Sunscreen
Whether it's sunny or cloudy, it's best to have sunscreen on to avoid sunburns!
Walking sticks
I am not very tall, and so it helps me in higher strides.
Down compressible coat
This is essential when passing from the boreal forest to the tundra.