Would you like to save up to $140 per summer without even lifting a finger? It's possible thanks to this little tech gadget that's simple to install (we'll show you how below!).

Few people think about it when they have a swimming pool installed or when they use it during the summer. However, the filtration and heating of swimming pool water represent up to 20% of the electricity used annually by a household. And that's downright 70% of the summer electricity bill. It's huge!

Many pool vendors offer timers to control how long the water is filtered and heated to keep energy costs down. However, these timers cannot be controlled remotely and do not take into account your presence at home or the time of meals, for example.

By installing a Sinopé smart electrical load controller on your pool pump or heater, you could do all of this and more. As a bonus, this device pays for itself thanks to the energy savings it generates. Awesome, right?

Whether your pool is new or has been through more than one summer, the electrical load controller can be connected to it. And since it is available for as low as $129.95, it's certainly a gadget that you shouldn't do without.
Lots of users love the load controller because it provides great energy savings. Others simply like the ability it offers to turn off the noisy pump during meal times or in the evening.
Everyone agrees that being able to turn on or off the pool pump and heater from their smartphone has changed their lives. Here are some of the favourite features:
Thanks to time and sunrise/sunset automations, you can activate the pump on your schedule so that the water is filtered only when you are away;
By activating geofencing, the pool heater will automatically turn off when you are within a distance you have determined. If you are 400 km from home, we bet you do not need to heat the water immediately!
Since the electric load controller allows the pump to be turned on or off remotely, consumers use their smartphone as a remote control to turn it off at mealtimes without having to get up.
The smart electrical load controller offers a great variety of features and allows you to improve your comfort and accumulate energy savings.
A pool pump does not need to be running all the time
For crystal clear water, you don't need to run your pool pump all the time. In reality, recommended downtime ranges from 6 to 12 hours per day between May and September.

Here are the recommended downtimes for your pool pump:
By following the recommended downtime, you could save up to $140 on your electricity bill for an in-ground pool and up to $110 for an above-ground pool.
Here's how to install it on your pool pump or heater:
1. Select a clear area in the pool shed to install the Smart Electrical Load Controller to control the water heater.
2. A load controller is already installed on the pool pump. Installing both devices side by side is just more convenient.
3. The load controller is fixed to the wall, ready to receive the cut and unsheathed wires.
4. Each wire is placed in the appropriate terminal, and connectors are firmly tightened.
5. The cable is secured by the clamp to maintain everything in place.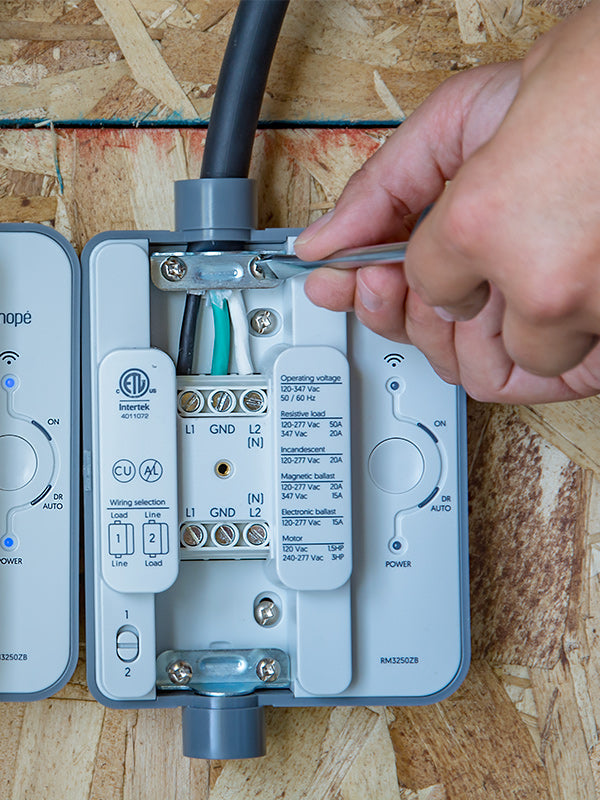 6. Select the position of the selection switch based on the wiring. All important information is printed on the device to facilitate installation and use.
7. The installation is quickly completed, and the device can be powered up. It's now possible to control the pool's water heater from any smartphone.